Octopus Automatic Add Value Service (AAVS)
Linking ICBC Credit Card 1 to Octopus Automatic Add-Value Service (AAVS), your Octopus will be automatically topped up with the preset reload amount when the remaining value is insufficient. Worry-free about running out of value on your Octopus card. AAVS can be used for different types of Octopus cards, including physical Octopus cards and virtual Octopus cards.
Can choose auto top-up amount of HK150/ HK$250/ HK$500 each time
Principal cardholders can apply for Octopus AAVS for themselves and their family members or friends (up to 4 cards)
The top-up value is entitled to cash rebate or bonus point (subject to card type2)
Enjoy 55 days interest-free repayment period
ICBC Credit Card Octopus Automatic Add-Value Service (AAVS) is applicable to Principal Physical Cardholders only (exclude for Virtual Card and Corporate Card)
Please visit the individual credit card product webpages for credit card cash rebate or bonus point details.
Instant Set Up of Octopus AAVS via Mobile Banking App New!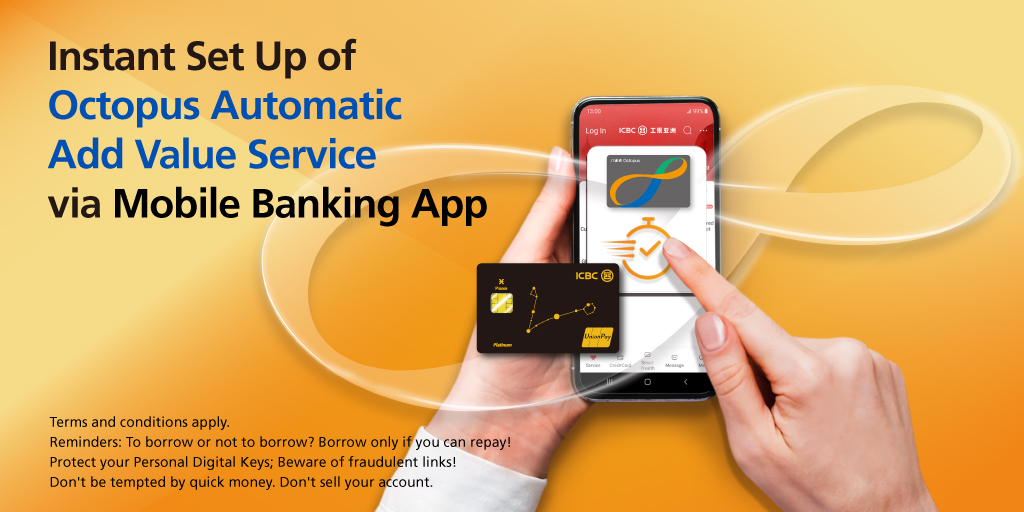 ICBC (Asia) and Octopus Cards Limited joined hands to launch the new "Instant Set up of Octopus AAVS via Mobile Banking App". Applying AAVS via the new mobile banking App channel3,4, you can get real time approval result and be redirected to Octopus App to activate the AAVS service instantly5. The whole application process is fast and convenient, without having to wait for notification letter to know the result. You can also update AAVS reload amount and check your application status on "Octopus AAVS" 6 of Mobile Banking App anytime and anywhere.
Instant set up of Octopus AAVS via mobile banking App is only applicable to principal cardholders of ICBC physical credit cards. If you would like to apply AAVS for your family members or friends, please submit physical application form.
Applying for or changing the AAVS application options through mobile banking App is limited to once per day.
Please use Near Field Communication (NFC) compatible mobile device and download the Octopus App.
Update and enquiry function on mobile banking App is only available for the record of Credit Cardholder
Application Fee
There is no application fee for first-time applicants for the AAVS. Where an Octopus card already has or used to have AAVS linked to it, there is a non-refundable handling fee of HK$20 per card charged by Octopus Cards Limited for transferring the AAVS from one financial institution to another, or reactivation of AAVS following suspension or cancellation. Such fee(s) will be charged to the AAVS Account.
---
Application process on Mobile Banking App
You can apply Octopus AAVS through a few simple steps on mobile App:
Press "Credit Card" at the bottom of mobile App main page
Select "Octopus AAVS"
Select "Apply AAVS/ Change Reload Amount"
Read and Agree to Application Terms and Conditions
Choose the credit card for linking AAVS service, input Octopus Number and auto-reload amount
(If you have AAVS record in ICBC, the record will be shown for updating auto-reload amount)
Press "Next" and complete OTP verification
Application will be approved in real time and application result is shown instantly.
Once the application is approved, please use the Mobile Banking App to redirect to Octopus App within 20 minutes for activation. The application will be cancelled and you need to apply again if it is not activated within the time limit.
You will be redirected to Octopus App for activation after tapping "Confirm"
Octopus App will show activation result

Please click here for detailed application pages and Octopus AAVS functions on mobile banking App.
---
Checking application result on mobile banking App
After choosing "Enquiry result" under "Octopus AAVS" , Credit Card No, Octopus Number, Auto-reload Amount, Application time and Application Status will be shown.

If there is approved but not yet activated AAVS mobile application, you can tap "activate" button and confirm the application details. You will be redirected to Octopus App to complete the activation process.
Activate AAVS7
If you are not redirected to Octopus App right after the successful application, you may use "Activate Octopus AAVS" function in mobile App to complete the activation process. You will be redirected to Octopus App for activation after confirming the application details.
7. This function is only applicable for activation of mobile applications, if you have submitted offline application, please follow the instructions on the result notification letter and activate your Octopus AAVS
Download the ICBC (Asia) Mobile Banking App
Search "ICBC Asia" at iPhone App Store or Google Play for free download.



If your Android device does not have Google Play, please click here to download.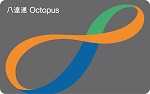 Click here to download Octopus AAVS physical Application Form, Terms of Application and Octopus Automatic Add Value Service Agreement.
Octopus AAVS shall be subject to the applicable terms and conditions published from time to time by ICBC (Asia) or Octopus Cards Limited.For more information, please refer to above Terms and Conditions or contact ICBC (Asia) Customer Service Hotline at (852) 218 95588.
Reminder: To borrow or not to borrow ? Borrow only if you can repay!
Protect your Personal Digital Keys. Beware of fraudulent links.
Don't lend or sell your account for a job.
"ICBC (Asia)" or "The Bank" refers to Industrial and Commercial Bank of China (Asia) Limited
Copyright Reserved © Industrial and Commercial Bank of China (Asia) Limited